Connecting Contexts Framework
In order to help children learn about privacy and security in ways that will help them to be prepared to face the myriad risks inherent in their online experiences, we need a deeper understanding of children's interactions within and across their day-to-day experiences—their learning ecologies (see work by Bronfenbrenner). We particularly need to understand how we can leverage a learning ecologies perspective to promote their cybersecurity learning across the two contexts where they spend the majority of their time, home and school. To do this, we develop and draw upon a new approach—integrating ecological systems theory with privacy and security to develop the Connecting Contexts Framework for Privacy and Security Learning (hereafter "Connecting Contexts"). This framework will establish methods for developing tools and resources targeted toward different stakeholders important in a child's learning, including parents, teachers, and children themselves.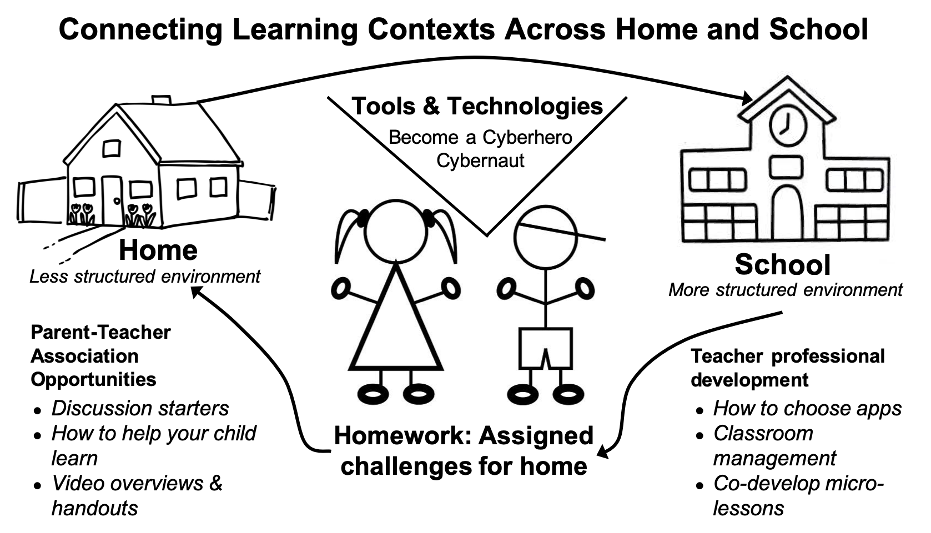 Applying this framework will generate curriculum for students, training for parents, and professional development for teachers. Curriculum and related educational materials will be tailored across three grade bands (K-1, 2-3, 4-5) so students will develop and expand their understanding of the following four core concepts throughout elementary school: how the Internet works (Internet), digital privacy (Privacy), cybersecurity (Security), and being a good digital citizen (Digital Citizenship). Finally, we will work with parents to identify their needs to help them become partners in the learning process. Parent-specific resources will help scaffold parent-child conversations at home to encourage family conversations about digital privacy and security practices in everyday life. The table below provides an overview of how educational materials will evolve throughout elementary school.
| | | | |
| --- | --- | --- | --- |
| Topic [T#] | Grades K-1 | Grades 2-3 | Grades 4-5 |
| [T1] Internet: What is the Internet? | We'll discuss how children get online (via tablets, phones, computers), as well as what being online means. | We'll discuss how children use Chromebooks, computers, and other devices. | We'll discuss access in terms beyond the school walls, such as using public Wi-Fi and personal devices. |
| [T2] Privacy: What does privacy online mean? | We'll help kids learn the basics of what offline privacy means and connect that to what online privacy might mean. | We'll move onto how data can be shared and persist across devices and how that impacts privacy. | We'll cover online tracking, targeted advertisements, and data ownership issues as well as posting on social media. |
| [T3] Security: What does security online mean? | We'll cover why we need passwords and what safety online means by connecting it to offline safety. | We'll help children learn about what happens if passwords are hacked and how to think about other security issues. | We'll talk about being mindful of keeping ourselves secure online, including identifying fake content, phishing, advertisements, and when to trust others. |
| [T4] Digital Citizenship: Being a good digital citizen. | We'll cover the basics of how we should treat each other in the real world and connect this to how we should treat each other in digital spaces. | We'll help children learn to be respectful when using devices, as well as and how they access content and how to deal with content they don't understand. | We'll address issues around cyberbullying, managing one's digital reputation and sharing online, and reinforce the lessons about being respectful online. |
Progression of Learning Across Elementary School in Four Core Topic Areas
Project Updates

Sept 2021: SPE4K welcomes two new PhD students to the project: Elana Blinder at UMD and Kelly Wagman at UChicago.

May 2021: Congrats to Priya Kumar, who graduated from UMD with her PhD! Priya is joining Penn State as an Assistant Professor this fall.

March 2021: Jessica gave a virtual talk at CMU's Cylab on the overarching goals and outcomes from this project so far. See her slides here.

Feb 2021: Watch Priya share her thoughts on "Internet Safety and the Family" during a Facebook Live event held by the MY Project USA.

Dec 2020: Marshini shared our research with attendees at a Chicago Hack Night event.

Nov 2020: Check out our latest publication on enhancing privacy literacy for children, published (open access) in Media & Communication.

Jan 2020: We were awarded a NSF SaTC EDU grant to continue our research.
NSF Disclosure

This material is based upon work supported by the National Science Foundation under Grant Number 1951688.

Any opinions, findings, and conclusions or recommendations expressed in this material are those of the author(s) and do not necessarily reflect the views of the National Science Foundation.